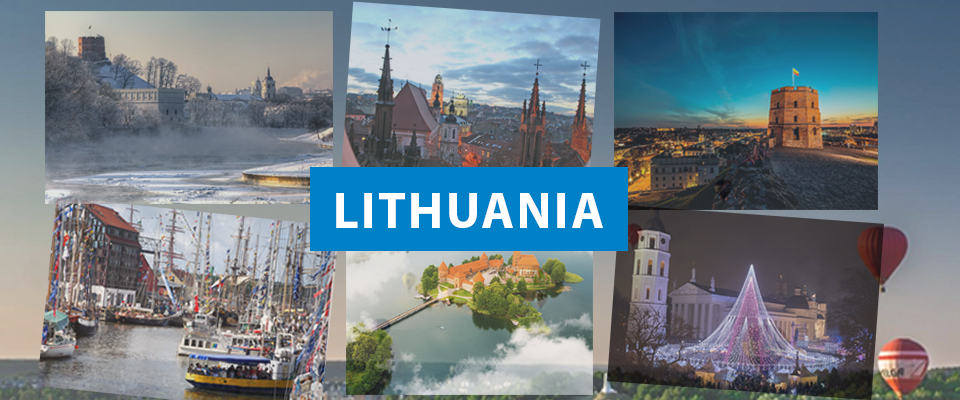 Economic outlook of Lithuania today – and what are the prospects for the country?
Lithuania, a country with less than three million people, has been successful in the transition from a centrally planned to a market economy since it renewed independence in 1991.

Lithuania is closely integrated in the international community as it joined the World Trade Organization in 2001, the European Union in 2004 and the euro area in 2015. Lithuania now is a globally ranked player; it ranks 16th out of 190 countries on Ease of Doing Business (by World Bank), 41st out of 137 countries on Global Competitiveness Index (by World Economic Forum) and 19th out of 180 countries on Index of Economic Freedom (by Heritage Foundation).

Here are some Lithuanian economy indicators, which are forecasted by the Lithuanian Bank: Lithuanian gross domestic product will grow by 3.2% in 2018 and 2.7% in 2019, inflation rate will count 2.7% in 2018 and 2.2% in 2019, unemployment rate will count 6.7% in 2018 and 6.6% in 2019.
Lithuania now has western oriented and stable economy, which will continue to grow.
Which kinds of business opportunities are there for Finnish companies in Lithuania?
Firstly I would like to present the sourcing possibilities from the Lithuanian producers. Lithuania with its historic competences in plastic, metal, electronics and machinery production becomes a regional production hub with around 70% of manufacturing production exported, mainly to the European Union. The Lithuanian engineering industry is the country's largest processing production sector; the industry consists of over 1.500 companies, employing 39700 specialists.
The success of the Lithuanian engineering industry has been mostly driven by its flexibility and ability to supply specific customized products to large foreign and local clients, as well as by the active modernization of production processes. Major international companies, such as Siemens, Rolls-Royce, Volkswagen, Volvo, GM, Ford, Boeing and many more source their components from the Lithuanian producers.
Please, also explain us, which kinds of investment opportunities there are for Finnish companies in Lithuania?
Having witnessed dramatic growth over the last 5 years, Lithuania's Business Services Sector is now home to a number of well-known international corporations. Their centres provide a diverse range of complex services to clients across the globe in over 30 different languages. With a city-to-city network forged through great connectivity, plus support and close co-operation with academic institutions, Lithuania can offer Finnish investors a real hub for Business Services.
For example, Finnish company Outokumpu, the global leader in stainless steel, in 2016 has opened a Business Services Centre in our capital Vilnius, and this centre's team of highly skilled financial, information technology and procurement specialists now provides services in 8 languages to Outokumpu companies worldwide. After only one and half years from the start of its operations, Outokumpu decided to expand its multifunctional service centre in Lithuania.
Lithuania also is a natural choice for investments into manufacturing because of its eager and skilled workforce, the close ties Lithuania builds between business and education and its commitment to creating the right infrastructure and support for manufacturing growth. Ranked alongside Ireland, Germany, Switzerland for its business environment, Lithuania can guarantee a fantastic cost to quality ratio. According to the latest Manufacturing Risk Index (by Cushman & Wakefield) Lithuania ranks as a top location in EU and the second most attractive location in the world to run manufacturing activities.
Let me mention another Finnish company, Peikko Group Corporation, a leading global supplier of concrete connections and composite structures. This company established its first Lithuanian operation, Peikko Lietuva, in 2006, and the operation has now grown to encompass three plants in Kaunas, the second biggest Lithuanian city.
If a Finnish company decides to invest in Lithuania, what are the most important issues this enterprise must take into its consideration to succeed in the market?
The process of setting up a business in Lithuania is straightforward and stress-free. Business can be set up electronically in just a few days as long as all the documents are in order.
However, in most cases, the foreign investors establish their factories or Global Business Services centres in Lithuania for exports or providing services globally and they are not oriented to the local market.
Which kind of assistance and which kinds of benefits there are in Lithuania for Finnish companies, which would like to invest in Lithuania?
Lithuanian Embassy together with its partner state agency Invest Lithuania helps Finnish investors to get business set up to the best start possible. Typical services for investors include tailored in-depth market and industry insights, advice on business costs, information concerning the local labour and legal framework, site visits (introduction to peer companies, universities, government authorities, preparation of tailor made, detailed site visit agendas for location assessment process), intros and meetings with key market players and relevant governmental institutions, project assessment to identify financial support opportunities from local government and EU, and much more.
Talking on investment incentives in our country, I would like to present the network of six Free Economic Zones. These zones were established in regional manufacturing and business centres of Lithuania. There is no profit tax during the initial ten years and half of the tax value during next six years of activities for the companies operating in these zones (profit tax in Lithuania is 15%); companies also do not pay any real-estate taxes. Other investment incentives include funding for employees' training and qualification and grants for development of new products and services. Finnish investors can also get funding for investment into Research and Development infrastructure, and activities related to process and organizational innovations.
The Finnish-Lithuanian Trade Association will arrange an excursion to Klaipeda on 7-9th November 2018. Please, explain us which kind of city Klaipeda is and what it has to offer for Finnish companies?
Klaipeda region is the third largest region in Lithuania, and one of the country's fastest growing regions — currently accounting for 12% of Lithuanian gross domestic product. Klaipeda city is lying on the western side of Lithuania on the coast of the Baltic Sea. It is a regional business, education, culture, tourism and administration centre. Historically, the city was a very important crossroad for various trade routes, as it was the place where North met South and East met West. Such an importance remains nowadays as well as Klaipeda has a multipurpose, universal, deep-water ice-free port, providing high quality services which makes Klaipeda the most important and biggest Lithuanian transport hub, connecting sea, land and railway routes. Continuous investment in the development of the port makes it the biggest EU seaport on the Eastern coast of the Baltic Sea per cargo handled.
Moreover, Klaipeda was the first city among the three Baltic States where the Free Economic Zone was established in 2002. Since then, more than 100 companies started their operations there, including the leading companies in their industry. Klaipeda is also home to the Baltic's largest shipyard, which offers a full range of services, from conceptual design to "turn key" projects. Klaipeda is currently the location of testing, component manufacturing, and small-scale extraction for the Oil & Gas industry — making it a natural competence centre for Oil & Gas. Top industrial competences include shipbuilding and metal structures, chemicals and plastics, food, beverages and tobacco, wood and furniture.
We know Lithuania as a great holiday destination for Finns. Please, tell us more about the tourist attractions and holiday resorts in your country
Vilnius – the capital of Lithuania is not only about the Old Town – the UNSECO World Heritage Site, or the towers of numerous baroque churches, or vibrant cultural life, but also about its happy people. Vilnius is the happiest capital in the European Union, according to a European Commission report. Almost half of the city (46%) is covered with forests and parks, Vilnius is one of the few capitals in Europe, which can be admired from a hot air balloon or circled in a boat on rivers embracing the centre of the city. Finnish travel magazine MONDO chose Vilnius as the Best Weekend Getaway destination of the year 2018.
The second biggest Lithuanian town Kaunas is famous for the interwar modernism architecture Art Deco, which is a unique phenomenon not only in Lithuania but also in Europe. Also, Kaunas has been granted with a status of UNESCO Design City in the Creative Cities Network.
In Klaipeda region, Neringa town with its spectacular UNESCO-inscribed scenery is the elite seaside resort of Lithuania. It spans a narrow peninsula called Curonian Spit, with its travelling and the so-called dead sandy dunes and one of the TOP 10 most beautiful beaches in Europe as recognized by the Lonely Planet.
Lithuania is celebrating 100 years of Independence this year. Please, tell us how this will be seen in Lithuania and outside Lithuania? Which kinds of activities you had/have during this year?
The 16 February is the most significant date in Lithuania's history. In 1918, an independent democratically-run modern civic state was established, together with the restoration of the statehood tradition cherished in the ancient Lithuania (1253-1795). 16 February 1918 is like a bridge between the old Lithuania born on 6 July 1253 and the new independent Lithuania restored on 11 March 1990. Had it not been for the 16 February, there would have been no events of 11 of March, nor the subsequent success story with the main achievements – Lithuania has become a player of the European and world history, with its modern civil society aware of the importance of freedom and the responsibility that goes with it, and with new emerging vistas for action for the Lithuanian state and its people.
Building of the modern Lithuanian state in 1918 was based on the principles of the equality of all, as well as the freedom and prosperity, and this is why all freedom loving people of the country and Lithuanians living abroad, for the first time in the history of Lithuania, became the creators of their state, and later on, during the years of the occupation – the guardians of its tradition. The heroes of the restored Lithuania are thousands of those of different nationalities, religions and social groups having built and safeguarded the tradition of the Lithuanian statehood and national identity. They include volunteers, farmers, teachers, architects and engineers, athletes, aviators, clergy of various denominations, Righteous Among the Nations, freedom fighters, dissidents that challenged the Soviet regime, people that created the liberation movement Sąjūdis, and the Lithuanians living abroad that preserved the idea of statehood and fostered the Lithuanian traditions.
As to the celebration itself, three strands reflected three objectives in the Centennial Programme – Learn, Celebrate, Create – alongside 11 major activities (films, exhibitions, information campaigns, the Centennial Song Festival, the Programme for February 16, the programme for celebrations abroad "Lithuania to the World", etc.). There were about 1000 events in the regions of Lithuania as well as 75 major events abroad. Let me remind that the President of Finland Sauli Niinistö alongside with other European leaders participated in the official Centennial celebration on 16 February 2018 in Vilnius.
The Embassy of Lithuania to Finland organized a grand concert at Rock Church of Helsinki (Temppeliaukion Kirkko) with the performance of the Lappeenranta City Orchestra and conductor V.Lukočius, opera soloists O.Kolobovaitė and L.Mikalauskas from Lithuania, trumpeters T.Gricius and J.Šilinskas. The listeners could enjoy the musical pieces of the Finnish and Lithuanians composers. Also, there were a number of the Lithuanian movie screenings, exhibitions, meetings and discussions with the Lithuanian prominent people in Finland this year. I would also like to mention the festival "EE, LV, LT x 100" that took place at the end of August in Helsinki. It was organized by the Nordic Council of Ministers' offices in Lithuania, Latvia and Estonia in collaboration with the Nordic Culture Point in Helsinki and the Baltic Embassies to celebrate the 100-year Anniversaries of the Baltic countries.