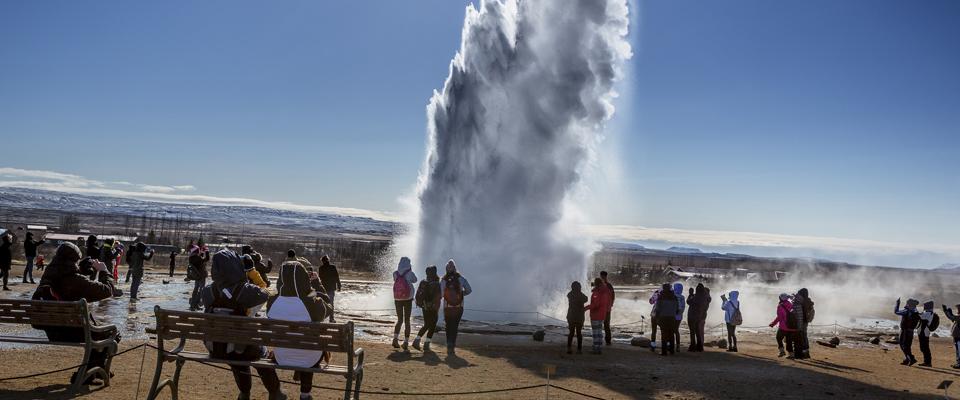 Economic outlook of Iceland today; what are the future prospects and development sectors for the country?
According to Statistic Iceland new issue of Statistical Series, presenting a revised economic forecast for 2017-2023, gross domestic product (GDP) for Iceland is estimated to have increased by 3.8% in 2017, driven by strong growth in private consumption (7.7%) and investments (9.3%).
Estimated growth for export 2017 is 3.5% and growth for imports of goods and services approximately 11%.
The tourism industry has driven the Icelandic economy for the past years, explaining the economic growth. This has allowed private consumption, disposable income, employment and real exchange rate to have recovered to at least the levels they were before the economic crash of 2008. In addition, Iceland is experiencing next to no unemployment and a low rate of inflation.
Which kinds of business opportunities are there for Finnish companies in Iceland?
Iceland focuses on a favorable business environment, including low corporate tax, availability of land and green energy at competitive prices and efficiency within the European legislative framework. Iceland´s location is also an efficient placement between Europe and the USA.
Main imported goods from Finland are machinery and transport equipment, paper and wood and plastic products.
Icelanders love Finnish design such as Marimekko, Arabia, Moomin cups and every home has Iittala glassware. Artek furniture Is also well known and can be found in many homes and in public places. Finnish fashion designers have found their route to Iceland. The cooperation between the design scene has blossomed past years. Finnish export to Iceland has become more diversified. However, a number of growth categories can be identified not least in areas representing high quality, smart design, healthy lifestyle and know-how. Design product products are all expected to have high growth potential in the Icelandic market in years to come. New products not currently exported to Iceland but with high export potential could probably be identified as Iceland is dependent on imported goods.
Please, also explain us which kinds of investment opportunities there are for Finnish companies in Iceland? Which countries are the main trading partners of Iceland and on which sectors?

Iceland has seen growing number of investments past years, the main reason is that Iceland has systematically made its business environment investors-friendly by supporting high professional standards and making it an ideal base for large and small companies.
The following industries are the main opportunities in Iceland today:
1. Tourism is the fastest growing industry in Iceland today. Air transport has increased and coordinated national efforts have attracted visitors throughout all seasons of the year. There is a demand in this industry to support the infrastructure.
2. The film industry: Iceland has attracted film makers past years and offers special tax incentives to attract film production.
3. Consumer products: Iceland is dependent on imported goods. Opportunities in this export category include electricity generating equipment, organic foods, Alcohol beverages, computers and software, high-tech fishing equipment, aircraft, and furniture.
We have also Icelandic companies in Finland. Please, tell us about their activities and interests.
There are about forty Icelandic companies operating in one way or another in Finland. Iceland's exports to Finland mainly consist of fish and fishery products, ferrous metal and grocery products. To mention few well-known brands that the Finnish consumers enjoy on daily basis are the Icelandic diary product Skyr, Lýsi the fish oils fit for human consumption, the skin care products Bioeffect and fresh Icelandic fish from local grocery stores. Icelandair has also been operating past twenty years with daily flights between the countries.
Iceland is a member of the Agreement on the European Economic Area (EEA) that unites members of the European Union (EU) and the three European Free Trade Association (EFTA) states (Iceland, Liechtenstein and Norway) into one single market governed by the EU basic rules. How Icelandic enterprises have benefited from this agreement?
Iceland's economic and trade relations with the EU are mainly governed by the European Economic Area (EEA) agreement, extending the laws of the single market (except for agriculture and fisheries laws and some others) to the European Economic Area countries. This means that Iceland is legally bound to add EU directives and regulations on the free movement of goods, persons, services and capital into Icelandic law. The EU makes up 61.5% of Iceland's total trade in goods.
Iceland is known for its volcanos, geysers etc. – which regions or places you would recommend tourist to visit and which kinds of leisure activities you have to offer?
When you think of Iceland the first thing that comes to your mind is probably the natural wonders like volcanoes, geysers glaziers and waterfalls, but also Icelandic music like Björk, Sigurrós and Sólstafir. There is so much more than that. Iceland is perfect for outdoor activities with breath taking, pure and unpolluted nature and landscape. Every seasons has its own charm. Long summer days with near 24-hours of daylight are offset by short winter days with only a few hours of daylight and you can enjoy the amazing colours of the northern lights of the aurora at night. Icelanders are warm and friendly, and easy with a smile.
I recommend you to enjoy the nature, drive around the island, mingle with locals, who are warm and friendly. Enjoy a walk around towns, visit the local swimming pools, experience music, literature, art and design. Last but not least enjoy also the culinary culture awaiting you to come and discover it. Sustainable use of food resources is important to Iceland, as well as local grown and slow food.
Welcome to Iceland
We welcome you to Iceland but before you enter the country please go online and pledge to become a responsible tourist to help us to protect our nature and valuable resources:
https://www.inspiredbyiceland.com/icelandicpledge/
I PLEDGE TO BE A RESPONSIBLE TOURIST.
WHEN I EXPLORE NEW PLACES,
I WILL LEAVE THEM AS I FOUND THEM.
I WILL TAKE PHOTOS TO DIE FOR,
WITHOUT DYING FOR THEM.
I WILL FOLLOW THE ROAD INTO THE UNKNOWN,
BUT NEVER VENTURE OFF THE ROAD.
AND I WILL ONLY PARK WHERE I AM SUPPOSED TO.
WHEN I SLEEP OUT UNDER THE STARS,
I'LL STAY WITHIN A CAMPSITE.
AND WHEN NATURE CALLS,
I WON'T ANSWER THE CALL ON NATURE.
I WILL BE PREPARED FOR ALL WEATHERS,
ALL POSSIBILITIES AND ALL ADVENTURES.