EntryPoint
"The delicate balance of mentoring someone is not creating them in your image,
but giving them the opportunity to create themselves."
– Steven Spielberg
Like any good relationship, mentorship is a process, not an accomplishment. It is something you do, not what you just give or get. The process is based on close cooperation, fostering a mutually beneficial partnership between a mentor and mentee.
This is exactly what lies at the heart of EntryPoint – a cross-cultural mentoring program, successfully organized by Helsinki Region Chamber of Commerce.
---
Why EntryPoint?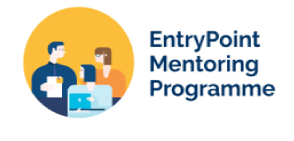 ⭐ Over 300 participants since 2016
⭐ One of the few mentoring programs in the capital region run completely in English
⭐ A two-way opportunity to make a difference and grow together over a period of 4-5 months
⭐ No obligation for mentors to recruit mentees
---
---
Who are EntryPoint mentors?
Professionals from business to academia fields with 3+ years of relevant experience from the Finnish working life.
They are willing to provide guidance and support to international talents in Finland, help them succeed and learn more about themselves.
Who are EntryPoint mentees?
International talents residing in the Helsinki metropolitan area.
They can be international degree students, graduates from higher education institutions in Finland, international spouses, or aspiring young professionals looking for a career change.
---
What are the core values and structure of EntryPoint?
All program activities celebrate diversity, while providing a supportive and inclusive environment for our participants. Everyone is encouraged to acknowledge and appreciate each participant's cultural differences along with their professional and educational background.
In addition, these 3 community-centered features comprise the foundation of EntryPoint:
• 4-5 pair meetings between a mentor and mentee
• 4 collective thematic group meetings: orientation for mentees and mentors, kick off, midterm, and wrap up
• 3-5 optional thematic group meetings: workshops about career and personal development, company visits, etc.
---
When can I join?
Next round of EntryPoint starts in January 2021 and ends in May 2021.
An application period for the upcoming round starts in late October 2020 and ends on the 6th of December 2020. To increase your chance of successful matching, please fill in one of the registration forms as thoroughly as possible.
---
There is no matching made before the application deadline. We will start processing applications only after the application period has ended.
You will hear from us after we have gone through all applications and finalised a matching process. Those for whom we have not found a suitable mentee or mentor will be informed as well.
Questions?
Ponomareva Marina
Talent Expert
marina.ponomareva@helsinki.chamber.fi
040 675 3852
Chamber Talent Boost
EntryPoint Mentoring Program