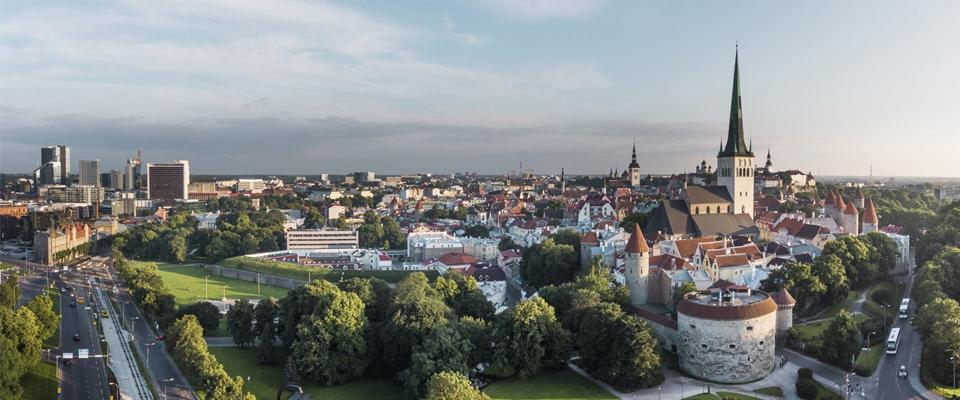 Economic outlook of Estonia today – and what are the prospects for the country?
Estonia`s economic outlook and prospects are good. Economic growth continuous to be more than 3.5% of GDP. Internal economic risks (loans, inflation, current account etc.) are low. State budget is in a positive and healthy situation. Public debt continues to be by far the lowest in the European Union. The level of tax burden is less than the EU average and it will be even decreasing in the coming years. Estonia has the most competitive tax system in the OECD (0% on retained and reinvested profit) for the fifth year in a row.
Estonia has a good political and economic environment to do business. It is a smart and agile location for businesses with global ambitions. Due to our excellent human capital, unique digital capabilities and a competitive business environment, Estonia has a strong track record of delivering benefits to investors. The focus is on higher productivity and faster export growth compared to the EU average.
Digitalization and innovation are important keywords throughout all sectors. Estonia is a young and open-minded country. Therefore, it is very easy to test and develop new ideas. Estonia is a country with high skilled people who deliver Nordic quality in a fast, smart, efficient and transparent way. We offer comparable quality to the Nordic countries, but at the same time stand out in terms of speed, flexibility, easy business management and transparency.
Which kinds of business opportunities are there for Finnish companies in Estonia?
Relations between Estonia and Finland are very close. Finland is the most important trading partner for Estonia. Estonia looks for even closer cooperation with Finland and other Nordic countries to boost the economy in the area and to have common competitive advantage in the global markets. For example, Talsinki tunnel and Rail Baltic will contribute to this goal. The tunnel between Helsinki and Tallinn would make Talsinki the biggest city in the region, offering companies a new level of business opportunities in the neighbourhood as well as in more remote areas.
We want to encourage successful Finnish companies to expand to Estonia – to take advantage of our flexible business environment, easy tax system and digitally enabled society. Estonia is the best place for companies that focus on process automation and the implementation of new digital technologies. Estonia offers high-quality product development and we are looking to attract capital-intensive and high added-value companies. There are great opportunities for Finnish companies that are export-orientated and have a high level of ICT.
Please, also explain us which kinds of investment opportunities there are for Finnish companies in Estonia?
Estonia is a rather popular place for Finnish companies. There are more than 6000 Finnish companies operating in Estonia. Almost a quarter of all the foreign direct investments in Estonia comes from Finland. There are numerous success stories of Finnish investments in Estonia. The most recent ones to highlight are Metsä Wood, Solita and Cloudator.
The best investment opportunities for Finnish companies are in R&D. Estonia offers a unique combination of talent, environment and innovation. Estonia has a collaborative ecosystem for R&D including academia, accelerators and competence centers. Supported by an excellent expertise and highly competitive, digital environment, Estonia is the ideal location for industrial product and technology R&D. Our IT R&D ecosystem has been acknowledged by global organizations such as Kuehne+Nagel and NATO and producing unicorn start-ups Transferwise and Taxify. As digitalization transforms life, business and government, Estonia's combination of skills, experience and environment make it the ideal location for globally scalable IT R&D.
Estonia is also a great place for global business centres. Estonia is an established location for finance and IT services and has a growing expertise in supply chain, human resource and process automation. Today there are over 80 captive; bbusiness process outsourcing (BPO) and information technology outsourcing (ITO) shared service centres in Estonia employing altogether more than 8000 people. Multifunctional centres with regional or global responsibility and multilingual teams, such as ABB and Stora Enso, become the norm.
Last but not least, Estonia is also a good place for venture capital. Estonia is in the global top for unicorns per capita. The country is considered as the new "Nordic Silicon Valley" offering excellent business opportunities and an attractive legislation for investing in start-ups.
If a Finnish company decides to invest in Estonia, what are the most important issues this enterprise must take into its consideration to succeed in the market?
Finnish company investing in Estonia can benefit from our favourable labour market. We have highly skilled labour force. 86% of the population speak at least one foreign language and mostly even two. The most common foreign languages spoken are English, Russian, German and Finnish. Many foreign investors value our Nordic mind-set – labour is delivering quality in a fast, smart, efficient and transparent way. It is also worth mentioning, that Estonian labour legislation is simple and straightforward. This makes the whole process of hiring very easy. However, due to the size of Estonia, the talent pool is limited – that is why Estonia is a perfect place for high-value added companies. We have also a variety of possibilities and support schemes for hiring people from abroad. One should also keep in mind that Estonia is not necessarily a cheap labour country.
Which kind of assistance and which kinds of benefits there are in Estonia for Finnish companies which would like to invest in Estonia?
Estonia is as a digital business hub of the Nordics. Due to the 25-year commitment to ICT as a country strategy, Estonia has become a recognised leader in digital skills, infrastructure and legislation. It comprises the best combination of cost competitiveness, quality and risk. Estonia can provide you with skilled and international workforce. It has balanced economy, high economic freedom and the most competitive tax system in the OECD.
We can also offer Finnish investors variety of extra support schemes, grants or tailor made offers. Just to mention a few of them. For example, there are specific support schemes available for large investors. There is also a special aid to shared services and R&D centres. In addition, a separate funding is provided for start-up companies with the potential for further expansion etc.
Please, explain us how Estonia has benefited from the free trade agreements?
Estonia has always pursued an open and liberal foreign economic policy. It is ranking among top countries in economic freedom and transparency in the world. Estonia is an export- orientated country. Furthermore, for the small country, like Estonia, the openness has been a major driving force in the country´s economic development. Estonia is a member of the WTO from 1999 and the European Union and NATO from 2004. In 2010, Estonia became the member of OECD. More than 70% of Estonia´s foreign trade takes place within the European Union and benefits from this huge internal market without any barriers. The rest of foreign trade benefits also from certain preferential trade arrangements. Several negotiations for free trade agreements are currently ongoing on behalf of the European Union vis-à-vis the rest of the world. Estonia holds naturally a very liberal approach in these negotiations.
We know Estonia as a great holiday destination for Finns. Please, tell us more about the tourist attractions and holiday resorts in your country.
Tourism is an important source of income for the Estonian economy. Finns are the most important group of tourists. The most common destination of Finnish tourists is Tallinn and its fascinating old town. In addition, many Finns have discovered Pärnu as the most popular coastal city, particularly in summers. Although, the Finns are likely to visit Tallinn, we encourage them to discover also other exciting places outside the capital and visit for example eastern Estonia. There are many new exotic places in eastern Estonia, but also many old manors. In eastern Estonia, there are new adventure parks such as Kiviõli Adventure Park and old manors, for example, Sagandi Manor. Definitely worth seeing and experiencing.
Text: Hele Karilaid, Counsellor of Estonian Embassy in Finland
Questions: Anne Hatanpää, Finncham