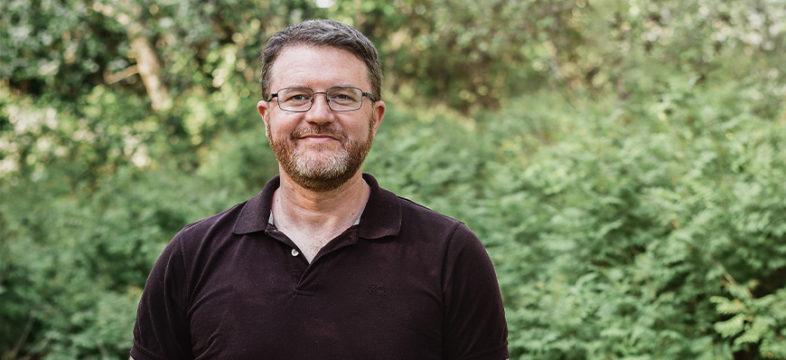 Why become a mentor at EntryPoint? One of our mentors will tell.
We are in the middle of the 2nd round of the Entry Point mentoring programme, where we have paired 27 experienced mentors to as many brilliant mentees that are navigating the Finnish job market. As we have now opened the registrations to the next session of the programme, running from January to May 2021, I (Marina Ponomareva, Program Coordinator) sat down with one of our mentors, Fabrizio Trotti to hear more about his experience and why he thinks you should also be part of EntryPoint.
Fabrizio, thanks for accepting to share your experience with us. Perhaps we can start with your background.
How did you end up in Finland?
Sure! I am originally from Italy, and I moved to Finland almost nine years ago. My Italian girlfriend (now wife) was offered to do her PhD in Mathematics at the University of Helsinki. I had always been attracted to Nordic countries; I had actually visited Finland as a tourist a couple of times already. So, it took me about five minutes to decide to leave everything behind and follow her here.
---
What was your professional situation when
you moved to Finland?
I quit my job in Italy to move, and once here I was unemployed. I tried to find a job before moving, but all I was getting was "Let's see when you are here." Honestly, I was pretty confident I would find a job in no time. I had years of experience in Marketing, a master's degree, very good English proficiency, and the full commitment to settle in the country for good.
---
Something tells me it was not so easy though.
It was not. The first months were depressing (it was winter, that did not help). I was not getting any answer to my applications. I also enrolled in the integration plan offered by the TE-office: I was given two or three handouts with information (in Finnish) on how and where to search for a job, and I was asked to try again after committing to a good number of Finnish classes. I even got to a decent level, and yet I could see that would not make a difference in my job seeking. Being able to speak Finnish in a professional environment feels like a mirage when all you learn is how to order food at a restaurant and partitives.
---
What happened then?
I started questioning my worth. Do I have anything at all to give to this country? At the same time, I was being contacted by recruiters in Italy, UK, US, Germany, even Belgium. But moving to Finland was first and foremost a lifestyle choice, I had to constantly remind myself of that. Despite feeling lost for many months, I continued to send applications. I worked as a waiter over the summer, and then in the autumn, about one year after moving here, I was lucky enough to find somebody who gave me a chance. Double luck, as that somebody was working for Supercell, that was about to boom back then.
---
Now you have worked for four companies in Finland and you have accumulated quite a lot of experience in this job market. Why did you decide to help newcomers find their way? And why with mentoring?
Moving to a new country is disorienting, and by the way I do not believe Finland is that more difficult than many other countries in this sense. It's a matter of getting your name out there and building your network, and that takes time. In the meantime though, all you get is rejection, and I figured when that happened to me, I so much would have benefited from somebody to keep me motivated, to tell me to hang in there, to just make sure I would not give up to despair. That is something I can offer, actually each one of us can offer. Mentoring is a great way to do it, and on top of that also share your experience and knowledge about the job market, the working culture, the dos and don'ts. Some mentees find a job through mentoring, but to me that is not the main point. Finding your way is more important than finding a job.
---
And why did you choose to be part
of the EntryPoint programme?
To be honest, in the beginning I was just intrigued by the fact that the Helsinki Region Chamber of Commerce would organize such a programme for foreigners. I found it was a brilliant idea. When I investigated further, I found the whole thing was very well structured. There are other programmes that collect names of volunteer mentors, and they might call you or not, depending on needs. What happens is you might not hear from anybody for months, and then get a request when you are having a busy period. That's ok, of course, but what impressed me about the EntryPoint system is that your commitment was all laid out from the very beginning. I exactly knew what to expect before even starting.
---
Since you are talking to us for this blog post, I assume your experience with the mentoring was positive.
Absolutely positive, I actually already registered for the next round starting in January 2021. Doing the programme, I also found that the material and support we were given to facilitate the mentoring were truly on point. Take the 1st session with mentors, for example. Sometimes you go to these intros, you sit for two hours and you get out just bored. I think you did an excellent job instead by providing interesting information and tips. All sessions were very well paced, even after the COVID-19 pandemic hit and you had to reinvent it all with remote meetings. Very well done – thank you for doing that!
---
How about the mentoring relationship?
For example, with your mentee from the 1st round.
From my perspective, it went very well. After a couple of face-to-face meetings, we had to adjust to the new situation as people were asked to stay home because of COVID-19. We managed to continue, in part with Google Meet and in part with WhatsApp. My mentee has a great future in front of her, she actually found a job during the mentoring (and I want to set this straight, I absolutely had nothing to do with that!). So, we also had to change the goals and some of the topics of our conversation. I cannot think of anything that did not go well, even though of course I cannot wait to be able to meet her face to face once again for a coffee and discuss the latest in content marketing!
---
I am really glad to hear that. What would you say are your personal biggest learnings or take-aways from
this experience?
Even though I have been in Finland for a while, and I am working now, I don't feel that is really the end of it. I am probably just getting started, and this experience has definitely allowed me to meet some truly remarkable people, both mentors and mentees. The chats with other mentors also gave me some very interesting perspectives on topics such as diversity in the workplace, leading multicultural teams, the openness vs closeness of Finnish companies. The peer mentors support group is one of the big pluses of the programme, in my opinion.
And finally, I think it is very important to be involved in this at a time when most of our world is being turned upside down. There was a sense of community and support in the virtual sessions we had in the past few months that truly boosted my motivation. I am sure it was the same for the other participants as well.
---
That's great Fabrizio. Do you have any final words
for somebody who is perhaps considering joining EntryPoint now?
If you are an experienced professional and have ever considered helping more junior people, this is the programme for you. And I would say, this is even more valid if you are an expat in Finland. There are many foreigners that are successful in this country and newcomers just need to be exposed to their stories and experiences. On the other hand, if you are a student, or if you are struggling finding your 1st or 2nd job in Finland, this is a great opportunity to not be alone in the journey. I hope you'll take it.
Thank you very much Fabrizio!
EntryPoint Mentoring Program
If any of our readers want to know more about EntryPoint and register for the next round, you can visit our website!